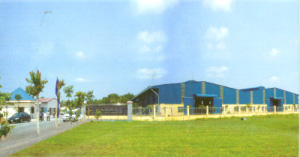 Along with the developemt of the Nation, Ha Lan Enterprise was established since 2002. With regard to support from customers during the recent time to the development of our Enterprise, we would like to thank you very much for your trustfuless and support for Ha Lan Enterprises in the past as well as future.

As a constant guideline "develop with customers", the Enterprise always pays its concern to quality of product and price, after sales services in order to serve customers better when coming to us. Besides the leading iron roofing sheet products in Vietnam such as Posvina, Sunstell, Blue Scope, Phuong Nam, Nam Kim, imported steel binding rater … supplied to large- sized construction works, we are also supplying other products such as dtied wood, plywood, varnished plywood made from cajuput stake, hardwood, rubber wood, which are popular woods and the advantages of Vietnam. Together with skilful workforce, modern processing technologies, quality management system of ISO 9001:2000, our products must be undergone various processes such as soaking, drying, anti-mould, anti-termite, anti-curve treatments... therefore. The wood products of our Enterprise are highly appreciated for using in the country. Our products meet all requirements of international standards to export in the US., Europe, Korea, Thailand, Singapore, China, …

These products are assumed as alternatives for natural wood but they have unique feartures. You can use these products to manufacture home furniture, flooring plank, other indoor wooden decorative products, especially suitable for all purposes. We can at the same time contribute to the enviroment protection and anti-deforestation, make news jobs for laborers, help the development of country by manufacturing and consuming these products. Once again, we sincerely thank for your concern and support.

We wish you good heath and prosperity!